Orientation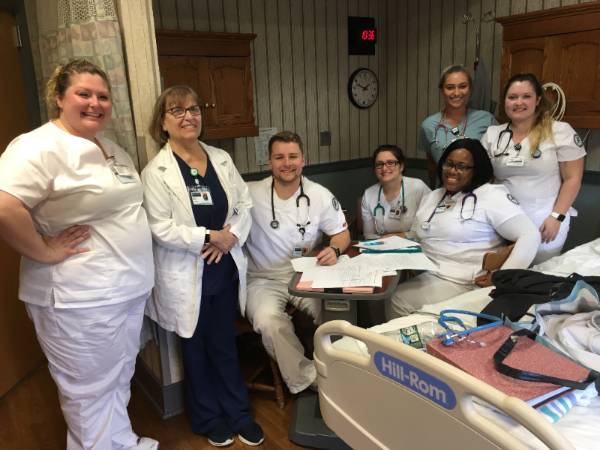 We look forward to welcoming you to the North Country Community College Nursing community! We are excited to assist you in your transition from an accepted student to a NCCC nursing student.
Onsite orientation for the Practical Nursing Program is offered exclusively at the Saranac Lake campus for all PN students. Attendance is mandatory. Dates are sent to students by the Registrar's Office.
If you have questions regarding registration, please call the Registrar's Office at 518-891-2915 ext. 1689. All other questions may be directed to the Nursing Program Interim Director, Tana Hare, thare@nccc.edu prior to the end of the academic year.
MAKING THE TRANSITION
The following topics will be reviewed during orientation:
Compliance Requirements include completing the Pre-Entrance Health Forms. For more information, and to download the forms visit the applicable link:
-Nursing Requirements Checklist and Forms (AAS/ADN)
-Nursing Requirements Checklist and Forms (PN Certificate)
Equipment

Watch with a second hand

Stethoscope (Littman Classic II or III recommended)

Optional: Pen Light and Aneroid blood pressure cuff (Adult size)
Uniforms:

STUDENTS MUST BE IN UNIFORM ON THE FIRST LAB DAY
Books and Backpack

Approximately one month prior to the beginning of your program your book list will be available through the NCCC Campus Book Store. We recommend you purchase books with access codes as assignments during the year will require having the codes.
Computers

Access to a personal computer, with the specifications as detailed in your welcome letter is required. NCCC has a limited number of laptops that are available to loan to students based upon need.

Insurance
Mailing Dates

Mailing dates outlined by the program require strict adherence. Failure to submit fees and all listed documents may result in loss of fall placement.
PREPARATION
In preparation for a key nursing course, Fundamentals of Nursing Practice, all students must enter with core knowledge of medication dosage calculation. In order to achieve a consistent level of knowledge within the student body, each student must purchase the book bundle from the bookstore, study the chapters outlined and complete the mathematics and medication problems at the end of each chapter. During the course, the basic information you have learned will be expanded upon and presented in greater detail. It is important for you to achieve a preliminary level of knowledge before additional information is presented.
Dosage Calculation

APA Style

Medical Terminology
Required Work from "The Nurse, The Math, The Meds" textbook:
You are responsible for knowing the material presented in Parts I and II prior to coming to school:
Part I - Self- Assessment - all students should complete
Math Review - students should complete as needed/indicated by the self-assessment
Dimensional Analysis - all students should complete:
Part II - Metric Units and Conversions - all students should complete
Patient Records, Medication Orders and Medication Labels - all students should complete
Additionally, Chapters 5, 6, 7, and 8 (Oral med calculations, Syringes, Injectable med calculations and Basic IV calculations) should be completed within the first two weeks of school.
Students who encounter any difficulties within the first two weeks of school will be referred to the LAC for tutoring.
You should be able to complete the practice problems in an accurate and timely fashion after studying these chapters. The chapters offer different mathematical approaches to solving dosage problems. While reading the chapters, evaluate the various methods presented. You may use any of these methods to solve the practice problems. However, the classroom presentation will focus on the use of ratio and proportion as the primary method use to problem solve. Enclosed you will find the standard conversion tables between the apothecary, metric, and household methods of measurement. Those conversions preceded by and *asterisk must be memorized, as they are commonly used in clinical practice. You should be familiar with and comfortable using the remaining conversions; but they do not require memorization. The conversions that do not have an asterisk will be made available to you during testing.
You are expected to pass the dosage calculation assessment exam with a 90% or higher. You have three attempts and this does not count for a grade.