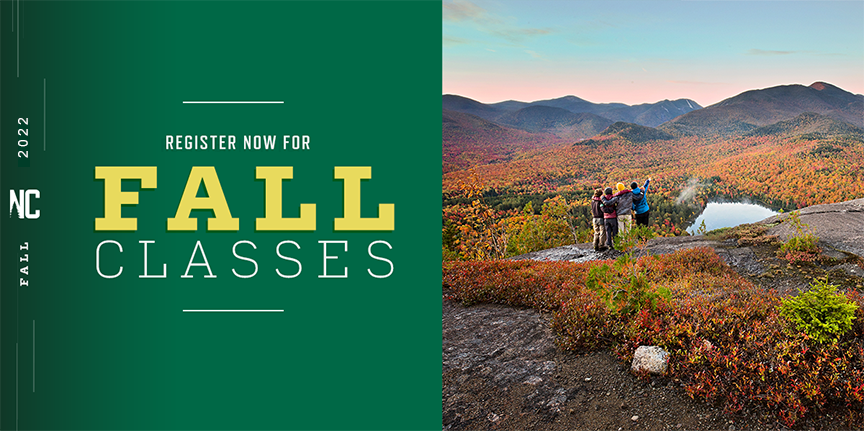 FALL CLASS SECTIONS:
A-G Meet face-to-face in Saranac Lake
H Classes are a Hybrid mix of face-to-face and Online sessions
HSRMT Classes meet in the Saint Regis Mohawk Tribal Administration building
M-S Meet face-to-face in Malone
T-U Meet face-to-face in Ticonderoga
V Classes are ONLIN-Live Online
Z and ZZ are classes that meet ONLIN-Online
1 means the course meets 8/29/22 thru 10/19/22
2 means the course meets 10/24/22 thru 12/15/22
Saranac Lake Campus – classroom designations:
Clermont Hall – CL – (classroom #)
Gymnasium - GYM
Hodson Hall – HH – (classroom #)
Library – Libr – (classroom #)
McCormick Hall – C – (classroom #)
Mulholland Hall S – (classroom #)
Pottery – ART - Clinic
River Street Hall - RSH – (classroom #)
Malone Campus – classroom designations:
Ballard Mill – BM – (classroom #)
Reshetkina Hall – RH – (classroom #)
Ticonderoga Campus - classroom designations:
Ticonderoga – T – (classroom #)
Fall 2022 COVID-19 Guidelines
Our
protocols will be similar to the guidelines the college followed during the Spring 2022 semester. These measures include:
Vaccination requirements: Per the State University of New York (SUNY), all students planning to be on campus for in-person courses (even if it's just one course) are required to be fully vaccinated against COVID-19 with one of the three approved vaccines. Fully vaccinated is defined as completing the two-shot series of either the Moderna or Pfizer vaccine, or the one-shot Johnson and Johnson vaccine. Proof of vaccination can be submitted to www.nccc.edu/health-records or healthrecords@nccc.edu
Boosters:

While boosters are not required at this time, should a mandate be issued by SUNY, students would have to comply.

Exemptions: Students may apply for medical accomodations/exemptions and religious exemptions. Contact the NCCC Student Life/Health Records Office at healthrecords@nccc.edu or (518) 891-2915 ext. 1204.
Testing: Students who are not vaccinated and who are approved for a medical accommodation/exemption or religious exemption will be required to participate in regular COVID testing.
Masking guidelines: Masks are encouraged on campus but not required.There may be exceptions to these guidelines where masks are required in a certain setting/situations to reduce risk of transmission from person to person (e.g. clinical settings, science labs, etc.).
Other: Online students who are unvaccinated and only plan to access the campus less than once a week must complete the Attestation Form and log their campus usage each time they access college property. If online students need more frequent campus access (once a week or more) for student support and resources, then proof of Covid-19 vaccination is required per our SUNY mandate.
Non-credit in person enrollment requires proof of Covid-19 vaccination.
For more information, please visit our COVID 19 Updates Page