NCCC students help launch PSC women's hockey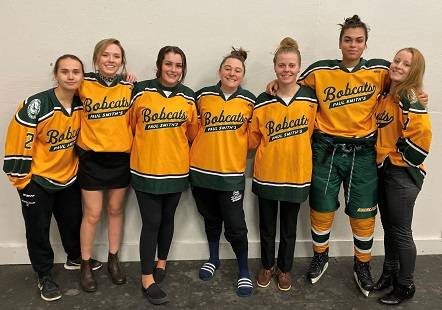 The North Country Community College students playing for the Paul Smith's College women's hockey team include, from left, Ruth Marscham, Colby Reynolds, Allie Chamberlain, Chelle O'Neill, Lindsay Reeve, Nidia DeArmaYero, Anna Thrasher. Not pictured are Kate MacDevitt, Jenny DeJung and McKenna Yette.
SARANAC LAKE – A group of North Country Community College student athletes are helping to make the inaugural season of women's hockey at Paul Smith's College a reality.
Ten young women who are attending NCCC have laced up skates and hit the ice for the Bobcats this season through an agreement between the two colleges.
"It's been a lot of work, but already we're starting to see that work pay off," said Casey Gerrish, head coach of both the Paul Smith's women's and men's hockey teams. "We're winning games in our league, and we're building on a partnership between Paul Smith's College and North Country Community College, which I think is important."
Some of the NCCC players are considering enrolling at Paul Smith's after they graduate, so they can complete a four-year degree and continue to play hockey. Those who do could take advantage of a unique 2+2 agreement between the colleges that allows NCCC graduates who enroll full time at Paul Smith's to pay state-level tuition rates. There are 20 program pathways for NCCC graduates to enhance their associate's degree by continuing their education at Paul Smith's.
"That's what's great about this," Gerrish said. "We're creating a pipeline for young student athletes to continue their education."
This is the first time NCCC student athletes have had the opportunity to play hockey since the college discontinued women's hockey in 2006 and men's in 2009. Gerrish's uncle, Tim Gerrish, coached North Country's men's hockey program for 25 years, leading the Saints to a national championship in 1995.
Casey Gerrish, a Potsdam native and Paul Smith's College graduate, said the partnership between the two local colleges came about this fall when he needed additional players to round out the roster.
"In the first year, any program is going to face challenges where maybe you don't have the numbers, and I had four women who de-committed on me the week before school started," he said. "That left us with about nine right off the bat. That's when we started beating the drum."
Gerrish and John Morgan, Paul Smith's director of sports initiatives, reached out to NCCC Athletic Director Chad LaDue to talk about the possibility of creating a combined team.
"I went over and talked to a number of young women on the North Country campus, and there was a lot of interest," Gerrish said. "Thankfully, we had 10 who signed up, and it's worked out so well."
"I think it's great that our students get the chance to have this opportunity, which helps to further strengthen the relationship with our friends at Paul Smith's," LaDue said. "This has truly been a win-win for both colleges."
Some of the NCCC players on the Paul Smith's women's team had played hockey before, but a few had very little or no experience. Colby Reynolds, a Health Sciences major from Rutland, Vt., said she hadn't played much hockey at all before joining the team.
"I played pond hockey back when I was eight, with my brother," Reynolds said. "Other than that I did figure skating. At one of our first practices, the coach kept saying, 'Don't drag your toe.' And I'm like, 'I'm sorry.'"
"I came to North Country to play soccer, and I probably hadn't skated more than 15 times," said Anna Thrasher, an Individual Studies major from northern New Jersey. "But it's been amazing. Meeting the team and making new friends. We're like a big family now."
Ruth Marscham, a Health Science major from NCCC, is one of two students from Australia on the team. The other is PSC student Molly Graham, who grew up five minutes from Marscham in Australia, although the two never met until coming to the Adirondacks to go to college. Now they're playing hockey together.
"I wanted to try it out and see how I did," Marscham said. "I feel like I've improved, but we're all still learning and having so much fun."
"The girls that haven't played before, they've developed so much in the past two months that they're blending in seamlessly to the girls that have been at it for so long," Gerrish said.
In addition to Reynolds, Thrasher and Marscham, the NCCC women on the team are Jenny DeJung and Nidia DeArmaYero of Akwesasne, McKenna Yette of Potsdam, Kate MacDevitt of Essex, Chelle O'Neill of Rainbow Lake, Allie Chamberlain of Tupper Lake and Lindsay Reeve of Saranac Lake.
The Bobcats are playing in the Independent Women's Club Hockey League, which is comprised of college teams from across New England. They're 7-3 on the season thus far. Their last game, on Dec. 14, was a 6-3 victory on home ice at the Saranac Lake Civic Center. DeArmaYero, who this fall became NCCC's all-time leading scorer in women's soccer, netted a hat trick in the win.
"The improvement in the last two months, it's been amazing how well they've done," Gerrish said of the team.
The Bobcats are on winter break now. They have three games in January before playoffs begin in February.