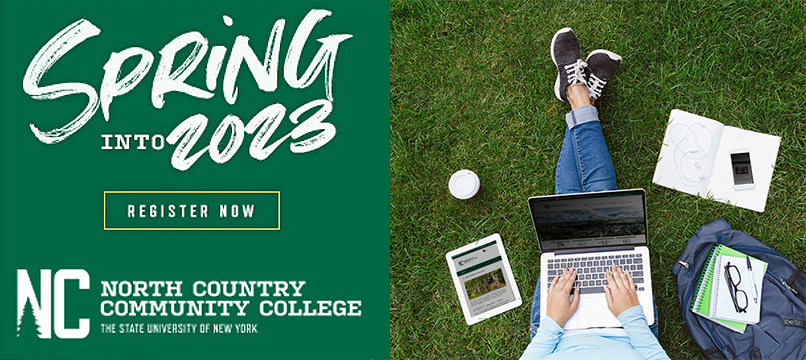 What classes are available for Spring 2023 semester? Jump to Course Delivery Information below to find out.
New to North Country? Apply for FREE by clicking the Apply button below.
Already a North Country student? Contact your advisor to register for Spring 2023.
Questions? Call 518-891-2915 ext, 1686 or email admissions@nccc.edu
Spring 2023 Course Delivery Information
Schedule Key:
ONLIN Live
Online:
Courses identified as "LIVE-Online" will have live meetings via video chat format (Blackboard, WebEx, Zoom, etc). Specific schedules for LIVE-Online will be given for each course, and we expect that students will attend all LIVE Online class sessions unless there is a valid reason for an exception. Communicate with your faculty member if any problems arise. Sessions will be taped in case unforeseen circumstances arise, but we encourage students to attend whenever possible.
ONLIN Online:
These courses will be fully online, with no regularly scheduled live sessions
.
SP-23 dates for full semester classes 1/30 to 5/18
The number 1 after a section letter means it's a 1st quarter class that runs from 1/30 to 3/21
The number 2 after a section letter means it's a 2nd quarter class that runs from 3/22 to 5/18
Z = Online
FLEX = Students have the option to attend online or in the classroom.
HSRMT = Hybrid course at the Akwesasne Tribal Administration Building
A-L = Saranac Lake in class on site
M-S = Malone in class on site
SMRT = Akwesasne
T-U = Ticonderoga in class on site
V = ONLIN-Live Online
VMS = Video between Malone and Saranac Lake
Spring 2023 Class Schedule: