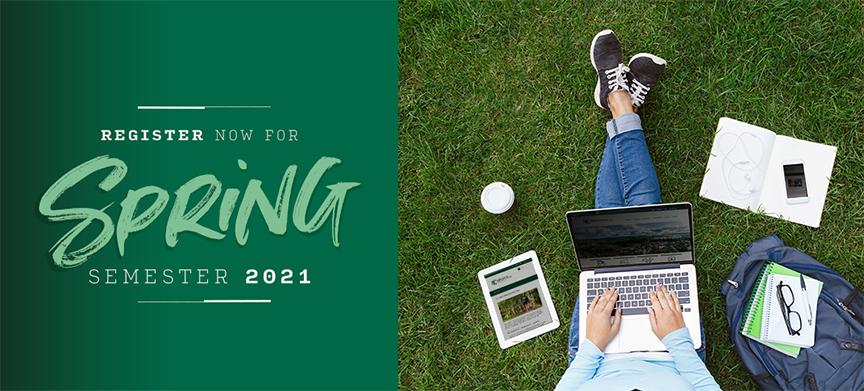 What classes are available for the Spring 2021 semester? Jump to Course Delivery Information below to find out. NOTE: Spring semester classes will mostly be delivered online.
New to North Country? Apply for FREE by clicking the Apply button below.
Already a North Country student? Contact your adviser to register for the Spring 2021 semester, or click the Register button below.
Questions? Call 518-891-2915 ext, 1686 or email admissions@nccc.edu

Spring 2022 information will be available September 2021.
Spring 2021 Course Delivery Information
Schedule Key:
ONLIN Live
Online:
Courses identified as "LIVE-Online" will have live meetings via video chat format (Blackboard, WebEx, Zoom, etc). Specific schedules for LIVE-Online will be given for each course, and we expect that students will attend all LIVE Online class sessions unless there is a valid reason for an exception. Communicate with your faculty member if any problems arise. Sessions will be taped in case unforeseen circumstances arise, but we encourage students to attend whenever possible.
ONLIN Online:
These courses will be fully online, with no regularly scheduled live sessions
.
The following programs will have some exceptions to the fully remote format. Please see communications from your program directors/faculty for more specific information regarding the schedule. Programs that may include some face-to-face meetings:
Nursing classes (Possibility of lab skills on campus later in the spring.)
Radiologic Technology Classes (Freshman: one day per week; Sophomores: clinical only as allowed)
Massage Classes (Freshman: 1-2 days per week; Sophomores: 1-2 days per week)
SP-21 dates for full semester classes 2/1/21 - 5/13/21
The number 1 after a section letter means it's a 1st quarter class that runs from 2/1 – 3/24
The number 2 after a section letter means it's a 2nd quarter class that runs from 3/25 – 5/13
Facility
Instruction/
Classrooms
LAC/Library
Athletic Facilities
Dorms/Food Service
Status

Limited access with social distancing and testing protocols.for on campus access

Open for limited hours with social distancing protocols.

Closed

Not available for Spring 2021.
Spring 2021 Class Schedule: