Scholarships-4-Everyone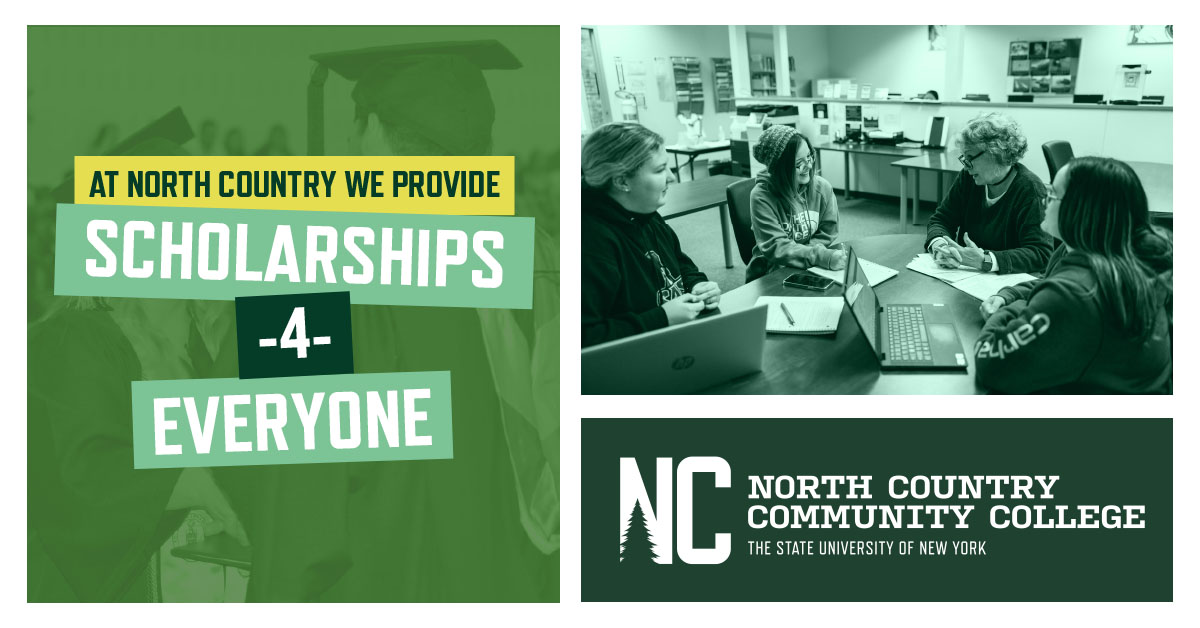 At North Country Community College we have Scholarships-4-Everyone.
This year we have more scholarship and grant funding for students than ever before! Every type of student is eligible so if you're fresh out of high school or been away from education for a while we have a scholarship program that will fit you.
FULL & PART-TIME STUDY SCHOLARSHIPS RANGE FROM $500 UP TO THE FULL COST OF TUITION!
---
6 on Us Scholarship Program
This grant-supported scholarship program allows new students (or returning students that have stepped away from college at least three years) to take up to 6 credits for FREE! Students will receive added support through the new North Country Navigator mentorship program.
NCCC Foundation Opportunity Scholarship
For full-time and part-time degree-seeking students that DO NOT qualify for the Essex/Franklin Scholars Award, Hodson, or 6 on Us scholarship programs. Students will receive added support through the new North Country Navigator mentorship program.

Essex and Franklin Scholars Awards (15 credits per semester required)
For first-time students who reside in Essex or Franklin
counties (New York State only) and who have graduated from a public high school
in Essex or Franklin counties, this award covers up to the full
cost of tuition for four semesters. Students must graduate
high school with an 85% cumulative average and have a
New York State Regents Diploma with Advance Distinction. There's no scholarship application required as these funds are automatically awarded as students register for courses. To be eligible, students must complete a Free Application for Federal Student Aid (FAFSA) and a NYS TAP Application (below).
NCCC Foundation Scholarships
Providing student scholarships and awards is a top priority for the NCCC Foundation. The generosity of donors allows us to make available a variety of scholarships and awards each year so that a college education can be within reach of every student. For more information visit the NCCC Foundation Scholarship page.
For more information on scholarships or financial aid, email financialaid@nccc.edu or call 888-TRY-NCCC.