Schumer Visits College to Announce $89,700 Grant for Water/Wastewater Training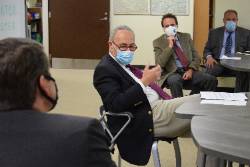 SARANAC LAKE – U.S. Sen. Charles Schumer used a visit to the North Country's Saranac Lake campus Friday to announce that the college has been awarded $89,700 in federal funding to develop a water and wastewater operator certification program.
The funding, allocated through the Northern Border Regional Commission's Economic and Infrastructure Development Investment Program, will allow the college to create a pool of trained applicants needed to fulfill a surplus of available water and wastewater operator positions in the region.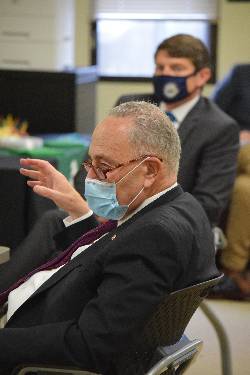 "We were happy we were able to get the grant," Schumer told a socially-distanced roomful of college officials and state and local leaders. "The college is always thinking of good programs that provide good jobs for people, which I really respect, and this is another example. That's the reason we were able to get the grant. It's great, and it will keep our water and sewer infrastructure and create jobs."
"We are delighted to have been selected by the NBRC for funding this critically important project and are grateful to Sen. Schumer for his support in securing it," said college President Joe Keegan. "The project is designed to fill gaps in the water and wastewater workforce, particularly related to education and training. These positions are vital to our North Country communities and intimately tied to their economic development aspirations."
The state and federal government provide capital funding in the form of loans and grants for construction and reconstruction of water and sewer utility systems in the region but no workforce training on how to operate them. In addition, the state continues to develop strict water quality tests, technology requirements and utility maintenance as they increase water quality parameters. As the regulatory agencies enforce stricter protocols, additional training and experience is required to meet this demand.
In the North Country, operators currently do not have the option for earning the necessary certification locally. Not only does this region lack certification courses, but the travel expenses to reach these destinations are expensive for the employer. By providing local training, the college plans to support the needs and demands of the region by offering certification and renewal courses for new and existing operators to meet expectations of the regulatory agency and employers.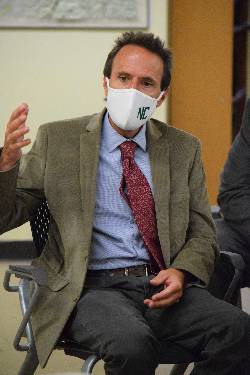 Keegan said the grant award would not have been possible without the help of many partners including town of Keene Supervisor Joe Pete Wilson and Essex County's Office of Community Resources, and its director, Anna Reynolds.
"Our heartfelt thanks to all for making this possible," Keegan said.
In addition to announcing the grant, Schumer discussed the impact of the COVID-19 pandemic on the region with the elected officials who participated in Friday's event, which was held in the college library. Those in attendance included State Assemblyman Billy Jones, Franklin County Legislative Chairman Don Dabiew, Franklin County Legislators Greg Janisewski and Lindy Ellis, Saranac Lake Mayor Clyde Rabideau, Lake Placid Mayor Craig Randall, Keene Supervisor Joe Pete Wilson, North Elba Supervisor Jay Rand and NCCC Board of Trustees member Mark Moeller.