Last Chance 2 Enroll extended to Sept. 1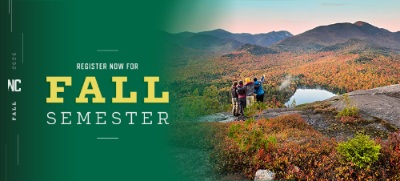 SARANAC LAKE – North Country Community College is extending its enrollment deadline for the Fall 2020 semester.
The college's Last Chance 2 Enroll campaign, originally planned to end this week, will now continue through Sept. 1.
College officials said they extended the deadline because there are still many students waiting to enroll in classes for the fall, including those who are entering their first semester of college and those looking for a new career path.
Students can apply, get accepted, register and complete the financial aid process in just one day.
The college still has several scholarship opportunities available, including the Essex and Franklin scholarships for traditional age students, the Foundation Opportunity Scholarship for students over age 22, and the Adirondack Scholarship for out-of-state students.
Students can sign up for North Country's Last Chance 2 Enroll by visiting www.nccc.edu/fall or calling 888-TRY-NCCC.