Adventurer, author to present on Adirondack Place Names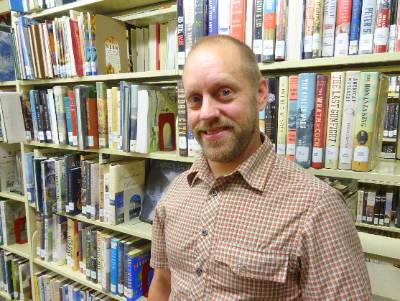 SARANAC LAKE -- Adventurer Erik Schlimmer will present "Adirondack Place Names: Why is That Thing Called That?" this Saturday Oct. 19 at 7 p.m. in the David Petty Lecture Hall (S-19) on the Saranac Lake Campus of North Country Community College.
The presentation is sponsored by the NCCC Wilderness Recreation Leadership Program in partnership with Adirondack Hamlets to Huts.
It will focus on Adirondack place names that Erik has historically decoded in detail via years of place name research. As Erik likes to say, "Behind every name there's a story, and the story is usually pretty good."
A graduate of the NCCC Wilderness Recreation Leadership Program, Erik is an adventurer at heart. He has thru-hiked the Baker Trail, Cohos Trail, Florida Trail, Long Path, Long Trail, Metacomet-Monadnock Trail, and Tahoe Rim Trail and traversed Great Smoky Mountains National Park and Allegheny National Forest. He's also hiked the Catskill Park's 320-mile trail system and crossed this range's high peaks via a 140-mile route.
Primarily a mountain climber, Erik has summited every peak above 2,000 feet in the Catskills (including the 200 highest during winter), every peak above 2,500 feet in the Adirondacks (including the 217 3,000-footers during winter), every peak above 3,000 feet in New England, and every peak above 5,000 feet in the South – more than 1,600 mountains total. He's also reached forty state high points and Lake Tahoe's dozen peaks above 10,000 feet.
Erik has also completed a 2,300-mile mountain bike ride along the U.S.-Mexico border and a 2,700-mile ride from Canada to Mexico on routes he designed himself, and he's paddled the Susquehanna and Delaware rivers from source to sea.
Erik is most familiar with the Adirondack Mountains. He has visited every named topographic feature within Hammond Pond Wild Forest, Hoffman Notch Wilderness Area, Giant Mountain Wilderness Area, Lake George Wild Forest, Pharaoh Lake Wilderness Area, Shaker Mountain Wild Forest, Siamese Ponds Wilderness Area, Silver Lake Wilderness Area, and Wilcox Lake Wild Forest – more than 800 features across more than 600,000 acres; completed a 110-mile loop hike of High Peaks Wilderness Area; hiked the 135-mile Northville Placid Trail four times; thru-hiked the 240-mile Trans Adirondack Route twice; and traversed the 270-mile High Peaks Wilderness Area trail system.
For outdoor work, Erik has been employed as an Appalachian Trail caretaker, Adirondack Park and Catskill Park backcountry ranger, trail builder, outdoor educator, MTV Made Coach, and professional bird catcher. He possesses a master's degree in clinical social work and is a licensed therapist, specializing in working with veterans. A veteran himself, Erik served as an 82nd Airborne Division paratrooper, and was stationed in Georgia, North Carolina, and Central America.
He's the author of seven books including his newest book Color Remote (2019), the most expansive Adirondack photo book ever produced. LOCALadk, a regional publication recently stated, "If you're looking for a photo book that illustrates the true wild side of the Adirondack Mountains, Color Remote is a must-have."
This presentation is partially supported by the New York State Department of State with funds provided under Title 11 of the Environmental Protection Fund Act.