North Country Live Special Edition: Adrian Carr Returns
Dec. 22, 2021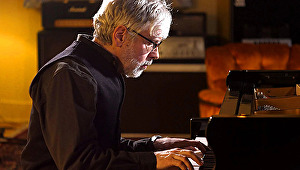 MALONE -- Composer, pianist and storyteller Adrian Carr will return to Malone after nearly eight years for a live performance at the Downtown Artist Cellar on December 28th at 7:30 p.m. The performance is limited to 25
people and will also be livestreamed through North Country Live.
Adrian's albums tell a story and each of his performances serve as a journey for himself and his audience. He has performed in a variety of venues from coffee houses to Carnegie Hall. Adrian received a Grammy nomination for his album "11," which was recorded in First Congregational Church in Malone. Next week's end-of-year performance will allude to Adrian's new album, which releases in 2022, and will recall some of his past works.
In an effort to reach a wider audience, DAC has partnered with North Country Community College to livestream the performance through North Country Live. The livestream is free to the public. Live Sound Engineer John Ianzuelli will use his technical expertise to surge the internet with Adrian's second live music performance in Malone offered by NCCC.
A few tickets are still available for the performance and can be purchased at the gallery, on the gallery's website, http://downtownartistcellar.com or reserved at the door by calling 518-651-5172. Vaccination cards and masks are required at the performance.
To register for the free livestream visit http://www.nccc.edu/live or DAC's homepage at http://downtownartistcellar.com.
DAC is excited to ring in the New Year with Adrian and to offer this unique experience through North Country Community College. Join us next week for an intimate performance that is sure to leave an impression.