Business, Psychology Classes Offered at Akwesasne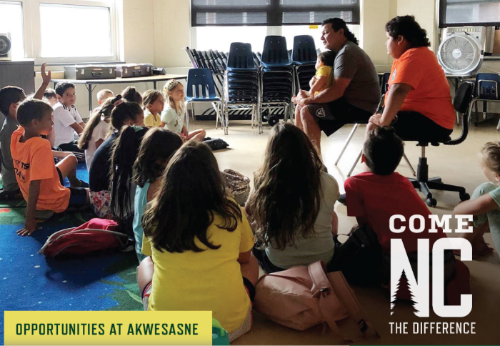 SARANAC LAKE – North Country Community College will offer classes at Akwesasne this spring, continuing an ongoing partnership with the Saint Regis Mohawk Tribe.
The college will provide a pair of three-credit courses that include both in-person classes at the Ionkwakiokwarò:ron Tribal Administration Building and online coursework.
Introductory Psychology, PSY 101, will take place Tuesdays from 5:30 to 6:50 p.m. This course is required for many of the college's Allied Health and Human Service programs, like Child and Family Services and Chemical Dependency Counseling, and recommended for many transfer degrees. It serves as an introduction to the systematic study of human behavior and experience.
Business Organization and Management, BUS 100, will be offered on Wednesdays from 4 to 5:20 p.m. This course is a requirement for students in the college's business programs, including Entrepreneurship and Business Administration. It provides a solid foundation in the essentials of the business world.
The college first offered courses at Akwesasne in the fall of 2019, allowing Akwesasronen and students from the surrounding area the opportunity to begin their pursuit of a college degree. This is the first time classes have been offered at Akwesasne since the onset of the Covid-19 pandemic in the spring of 2020.
"We look forward to continuing our successful partnership with the Saint Regis Mohawk Tribe to serve the educational needs of the Akwesasne community," said Sarah Maroun, Interim Vice President for Academic Affairs at North Country. "By providing some foundational courses at a location close to home, we hope to open a pathway for students to begin or continue to pursue their career and educational goals in a wide variety of degree programs."
Classes begin the week of Jan. 24. Financial assistance is available to qualifying students through the college and the tribe. Space is limited. To register visit www.nccc.edu/akwesasne or contact Samantha Phillips, Enrollment/Financial Aid Counselor at sphillips@nccc.edu or 518-354-5194.
Please note: Students enrolled in these classes must follow SUNY's and the college's Covid-19 vaccination and booster requirements (www.nccc.edu/spring-2022), as well any protocols set by the Saint Regis Mohawk Tribe while in the Tribal Administration Building.