Counseling Partners
North Country Community College recognizes students and employees may need support to maintain wellness in mind and body. We support and encourage you to seek counseling services on and off campus through our many community partners. When possible, we bring community providers on campus to enable easier access to these services for our college community.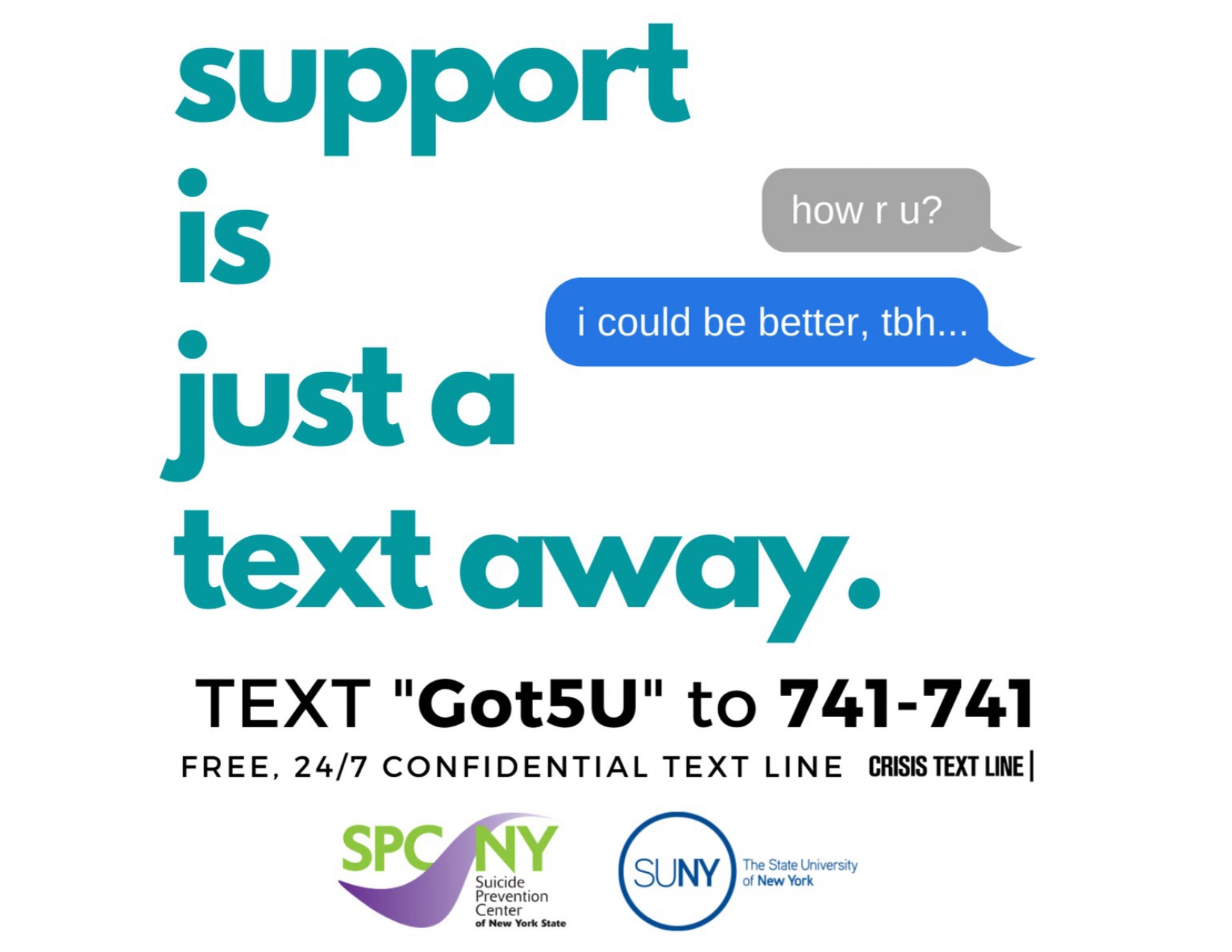 New York State Office of Mental Health
Emotional Support Line: 1-844-863-9314

The Emotional Support Line provides free and confidential support, helping callers experiencing increased anxiety due to the coronavirus emergency. The Help Line is staffed by volunteers, including mental health professionals, who have received training in crisis counseling.
Available 7 days a week 8 a.m. to 10 p.m.
Headspace and the Office of Governor Andrew Cuomo teamed up to offer free meditation and mindfulness content for all New Yorkers as a mental health resource. You can access a specially curated collection of science-backed, evidence-based guided meditations, along with at-home mindful workouts, sleep and kids content to help address rising stress and anxiety. Available at www.headspace.com/ny, the collection will also feature Headspace co-founder and former Buddhist monk Andy Puddicombe, who will share special video messages with the people of New York to help offer guidance, support and solidarity.
---
REGIONAL TELE-HEALTH COUNSELING SERVICES
Citizen Advocates (Franklin County)

In-person and Tele-Mental Health Services available by calling:
Malone Clinic: 518-483-3261

Saranac Lake Clinic: 518-891-5535

Massena Clinic: 315-764-8076
Crisis & Recovery Center located at 15 Fourth Street Malone, NY
For Crisis & Recover Center Services call 518-483-3261
To schedule a Saranac Lake Campus appointment, please contact
Shanzy Carter-Martinez or call 518-891-5535 to set up a new client profile.
---
Essex County Mental Health Services

In-person and Tele-Mental Health Services available by calling:
Elizabethtown Clinic: 518-873-3670
Toll Free Emergency Services available after hours, weekends and holidays: 1-888-854-3773
---

St. Joseph's Addiction Treatment and Recovery Centers
If you or a loved one are experiencing anxiety, depression, or other mental health challenges during this time of increased stress and would like a caring professional to talk to, please do not hesitate to call St. Joseph's Open Access Center, located on the grounds of Adirondack Health.
St. Joseph's Open Access Center offers a safe and stigma-free environment for people with mental health challenges, substance use disorders, and other challenges to seek help whenever they are ready – including extended hours into the evening, weekends and holidays. St. Joseph's Addiction Treatment and Recovery Center is located at 253 Old Lake Colby Rd. in Saranac Lake.
Call (518) 354-5390 if you need assistance. After hours, please call (518) 897-6174. All calls are confidential.
Malone Campus - to schedule call 518-483-6566

Saranac Lake Campus - to schedule call 518-891-5353

Ticonderoga Campus - to schedule call 518-585-7934
---

ACCES -VR: Adult and Continuing Education Services
---
Need help affording counseling services?
Ask the Dean of Student Life about funds available for students without applicable insurance coverage. You can reach Kim Irland at kirland@nccc.edu.
DISCLAIMER: North Country Community College offices and employees who cannot guarantee confidentiality will maintain your privacy to the greatest extent possible. The information you provide to a nonconfidential resource will be relayed only as necessary to investigate and/or seek a resolution. North Country Community College will limit the disclosure as much as possible.