EMS Training
North Country Community College offers both EMT and Advanced EMT courses within Essex County and Franklin County NY.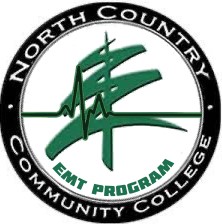 NYS EMS Course Sponsor 02-065
All EMT / Advanced EMT courses are open to the public as well as NCCC College students. If you would like more information on upcoming courses or assistance registering for courses please contact emstraining@nccc.edu or 518-354-5153.
Certificate: Advanced Emergency Medical Technician
Upcoming EMT / AEMT Courses: *Courses below are subject to NYS BEMS approval
Spring 2024
EMT Original / Refresher - Essex County Public Safety Building - Lewis (Register) *Starts 1/9/2024
Advanced EMT Original - NCCC Saranac Lake Campus
Advanced EMT Original - NCCC Malone Campus
Advanced EMT Original - NCCC Ticonderoga Campus
Tuition & Billing (2022-23 Academic Year)
North Country Community College aims to make Emergency Medical Technician (EMT) and Advanced Emergency Medical Technician (AEMT) training accessible and affordable. The College will assist all students enrolling in EMT and AEMT courses evaluate all available funding options.
Students may enroll in both EMT and AEMT courses as either a non-credit student, non-matriculated (non-degree seeking) student or a matriculated (degree-seeking) student. Matriculated (degree-seeking) students have the option to apply for both federal and state financial aid programs.
Non-credit tuition for the EMT course: Original $800 / Refresher $400
Non-credit tuition for the AEMT courses: Original $1,250 / Refresher $625
Non-credit students who are volunteer members or employees of NYS EMS agencies at the time of registration may apply to offset EMT course tuition by the anticipated $700 state level reimbursement (only available EMT level). Eligible students should complete a NYS DOH 3312 Form (Verification of Membership in a NYS EMS Agency) and submit to emstraining@nccc.edu .
Students opting to enroll in the EMT or AEMT course for College Credit will fall under the College's current tuition and fees schedule .
Course Textbook Information (2023-24 Academic Year)
EMT: AAOS Emergency Care and Transportation of the Sick and Injured Premier Package (Twelfth Edition)
AEMT: AAOS Advanced Emergency Care and Transportation of the Sick and Injured Premier Package (Fourth Edition)