Parking
Visitors are welcome to park in any location. In advance or when you arrive, request a temporary parking permit from a college representative. Temporary permits will only be valid for the date and vehicle for which it is originally issued.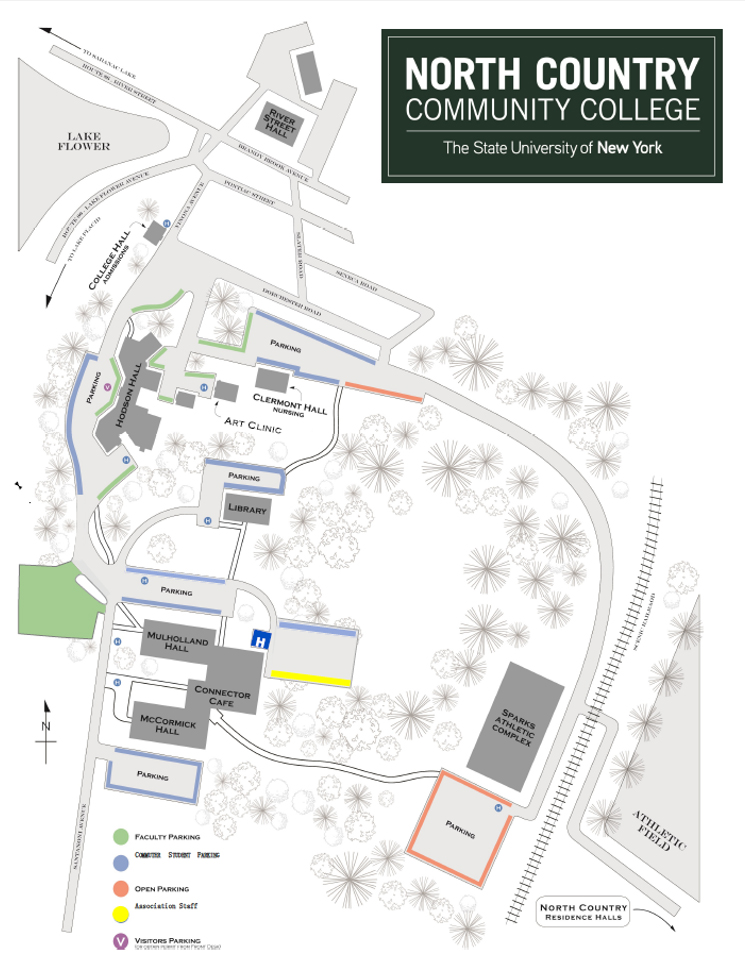 Parking Registration
All students and staff are required to register their vehicles with the College, post parking tags in the designated location, and comply with designated parking requirements. To register up to three vehicles, click on the Vehicle Registration Form or pick up a hard copy from the Student Life Office. Vehicles parked on campus without a permit, or parked in an area where the permit is not valid, will be ticketed. Click on the Parking Permit Location Guide for review. Campus parking maps are also posted around campus. For information on how to post your parking tag, click here: Parking Permit Location Guide.
Commuter Students:
Designated parking applies to weekdays during the academic calendar from 7:30am - 4:00pm. Commuter parking is permitted only in areas marked or signed as parking spaces and zoned appropriately for the permit being displayed.
Residential Students:
Students residing in the Saranac Lake campus residence halls are required to park their vehicles at the residence halls or in designated "Open Parking" on weekdays between the hours of 7:30am and 4:00pm. Violators will be ticketed.
Disability Parking:
Students, staff and visitors accessing disability parking must have the required disability placard or license plate. For additional information, contact the Office of the ADA/504 Coordinator at the Saranac Lake campus. Necessary vehicle information will be recorded and a special parking permit may be issued for a specified period of time. A physician's certification is necessary to verify eligibility for disabled parking. The physician's certification should clearly state the nature of the disability and specify the anticipated length of disability.
Parking Ticket Appeal:
Any student receiving a parking ticket may appeal. Carefully review the following: Parking Ticket Appeal Process / Form.