Women's Soccer Team Ranked No. 10 in Nation
Oct. 6, 2021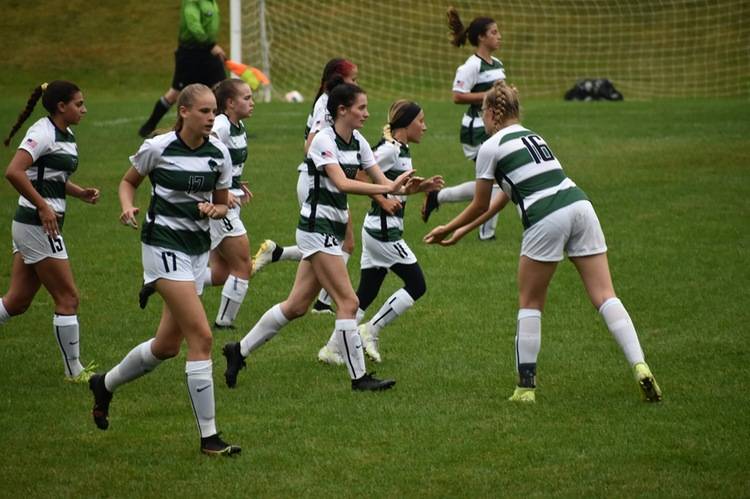 SARANAC LAKE – The undefeated North Country Community College women's soccer team heads into a pivotal matchup against Mohawk Valley Community College on Friday as one of the top teams in the country.
This is the first time in the college's 54-year history that the Saints women have been nationally ranked in soccer. The most recent NJCAA DIII Women's Soccer poll listed North Country as the 10th ranked team in the country.
"It means we're finally getting noticed," said Head Coach Kent Egglefield. "We've worked for years to build and grow our program, and now we've reached the point where we know we're just as good as anybody else out there."
The Saints' success this season (8-0) comes after the program had a one-year hiatus due to Covid-19, and with a squad that's made up of 19 freshman players and just four returners.
"It's a surprise only in where we're at now," Egglefield said. "When I had a year and a half to recruit, I knew what kind of team we wanted to build. One question I would ask recruits is 'Can you be coached? Can you sacrifice the way you've done things before for the good of the team?' Literally every player on this team has adjusted, and I'm blown away by what they can do.
"The biggest thing is they're all selfless. They play for each other. They don' t care who gets the stats. They bought into the vision we created as a team in the preseason. It's unbelievable how well and how hard they work together."
The Saints have held their opponents scoreless for six consecutive games. Last weekend, they defeated Hudson Valley Community College and Onondaga Community College, two much larger schools, by a combined score of 10-0.
Chad LaDue, North Country's athletic director, noted that most of the players on the Saints' roster were recruited from high schools in the region.
"Kent has mixed some international students to go along with the students from the North Country," LaDue said. "It's created a nice diversity that the girls have really embraced. It's shown not just on the playing field but in the team culture and spirit.
"He worked extremely hard during very difficult times, not being able to go out and see high school games, to bring in as many quality student-athletes as he could," LaDue added. "That's a big factor in the success this year."
The Saints will likely face their biggest challenge of the season when they host No. 4-ranked Mohawk Valley (6-0) at 3 p.m. Friday at the Sparks Athletic Complex soccer field. The game will likely decide who will win the conference.
"The biggest thing for us going forward is confidence," Egglefield said. "We're confident if we play our game, no one can beat us."