Women's basketball team makes history
SYRACUSE – North Country Community College's women's basketball team made history Sunday when it claimed it's first-ever NJCAA Region III championship.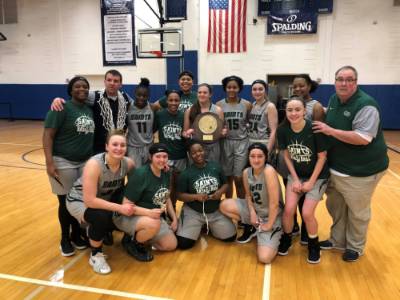 The Saints defeated Jefferson Community College 74-64, winning the first regional title in the history of NCCC's basketball program. With the victory, the team now advances to the national championships later this month in Pennsylvania.
"It's just amazing," said Saints Head Coach Jerrad Dumont, the Region III Coach of the Year. "I could cry. This is the culture that our sophomores created for the last two years. They started it last year, and now they're going to the national championship."
Dumont said point guard Ty Taylor, the Region III Player of the Year, and fellow sophomore Jasmine Perea had big games for the Saints. The team also had key contributions from a pair of freshman, he said.
"Mary Parker defended without fouling and attacked the basket. And Kayla Carder dominated on the inside. They both stepped up and helped our guards."
Speaking just a few minutes after the game, Dumont said he doesn't think winning a regional title has really sunk in yet, for him or his players. Chad LaDue, NCCC's athletic director, agreed.
"I think we're all feeling a little bit of awe and a lot of excitement," LaDue said. "Whenever you make it down to the final four of the region you know the competition is going to be tough. I thought we had a tough battle yesterday against a good Fulton-Montgomery we've had to play three times. And then today we had to play one of the hottest teams the last couple weeks in Jefferson. It was a game of a couple different runs, and we were able to keep our composure down the stretch."
LaDue said the victory was even sweeter because of his relationship with Dumont, who played under LaDue when he led North Country's men's basketball program.
"It's been so amazing to see what Jerrad has been able to do for the program," LaDue said. "He's taken it to a level that's neve been reached. And his assistant coach, Rob Roy, was my head coach at North Country, another reason why it's such a special day."
"Being with those guys on a day like today. I don't know if you can really comprehend it," Dumont said. "It's just so emotional. It's such a great thing."
Dumont said he was grateful to the parents and fans who made the trip to Syracuse to show their support for the team.
The Saints are one of eight teams in the country that will travel to the NJCAA championships, set for March 14-16 at Northampton Community College in Bethlehem, Pennsylvania.