Olivia Sawyer is NCCC's Winter Carnival Princess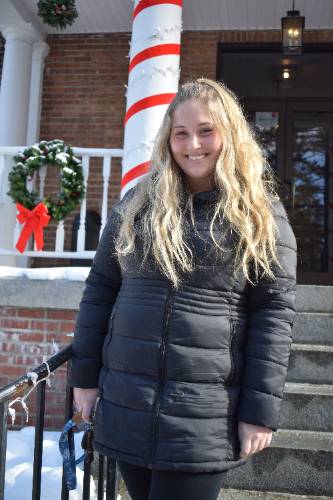 SARANAC LAKE – Each year, students from North Country Community College and Paul Smith's College are selected to serve as the Saranac Lake Winter Carnival prince or princess.
This year, Olivia Sawyer of Lake Placid is North Country's representative as the princess of the "Myths and Legends"-themed 2020 Winter Carnival. A second-year student who is currently in the practical nursing program, Sawyer said she's enjoyed Carnival in the past and is excited to experience it as royalty.
"We've always had fun at Carnival, and I always thought it was awesome with the Ice Palace and everything, but I didn't know much about the coronation and the royalty," she said. "That's very new to me now. I'm seeing what a big event it is for the town. It's such a wonderful thing."
Sawyer said she first heard about the opportunity to become the Winter Carnival princess last year. She sees it as a way to continue to be involved in the community.
Sawyer has been a frequent volunteer in Lake Placid, where she was named the 2018 Volunteer of the Year, and has been on multiple mission trips across the country, helping people repair homes in Pennsylvania, New Mexico, West Virginia and Utah. This summer she'll travel on another mission trip to Reading, Pennsylvania, and then to Siem Riep, Cambodia, where she will help children learn English. When she isn't volunteering or fundraising for her mission trips, she works as a pharmacy tech at Walgreen's in Lake Placid.
At the college, Sawyer has played on the women's volleyball team, was the president of the Drama Club and serves as treasurer of the Nursing Club. She will graduate in May.
"This has been the best time ever," she said of her time at North Country. "I did not have a great experience in high school, and coming to North Country completely changed my perspective about school. I've had wonderful teachers. I've learned so much. I've had a great time and I've learned a lot."
Sawyer said she's undecided on her career path at this point, but she does plan to continue her work as a volunteer.
For now, she's going to soak up as much of Carnival as possible.
"I'm planning to be at as many events as I can, and to represent the college the best that I can," she said.
For more about Olivia and the rest of the Winter Carnival Royalty, visit www.saranaclakewintercarnival.com.