College, Community Connections partner on peer advocate program
MALONE – Community Connections of Franklin County and North Country Community College are teaming up to provide peer advocate training to students at the college.
The college's Human Services Department has developed a new, three-credit Peer Advocate Practicum course. Qualified students in any program can earn college credit, gain valuable real-world experience working with students in need, and secure eligibility to become a state-certified peer advocate upon completion of the course.
"This is the true definition of community partnership," said Kathleen Dowd-Maloney, chair of the college's Human Services Department. "We are so excited to work with Community Connections and offer additional support to our students as well as help students enrolled in the class to become even more employable, experienced and recognized."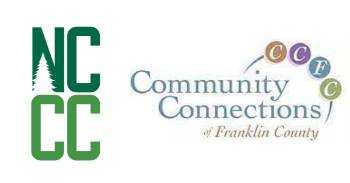 Students in the program will be supervised and trained by NCCC and Community Connections of Franklin County. Lee Rivers, Executive Director, will offer the necessary resources, support and guidance to students who receive the training.
"We are excited for the opportunity to partner with NCCC on this initiative," Rivers said. "It is our goal to offer additional assistance to college students in need to ensure they are successful in obtaining their degree; and to assist some college students to gain knowledge and front line experience in Peer Services, thus helping them be successful in their future careers. I would like to thank Kathleen Dowd-Maloney, the Senate Committee and the Board of Trustees for seeing the benefit of this initiative and approving it."
The Peer Advocate Practicum is open to students who are at least in their second semester and have a GPA of 3.0 or higher.
For more information on program qualifications and responsibilities, contact Kathleen Dowd-Maloney at kdowd@nccc.edu.