Erin Walkow hired as new Foundation/Development Director
College officials salute Diana Fortune, who retired this fall, for her service as Foundation director
SARANAC LAKE – North Country Community College is excited to welcome Erin Walkow of Saranac Lake as its new Foundation and Development Director.
Walkow, who started work at the college last month, comes to North Country with more than 20 years of fundraising experience and a passion for the communities of the Adirondacks. She previously worked as Director of Development for the Lake Placid Center for the Arts and Associate Director of Development for the Nature Conservancy's Adirondack Chapter.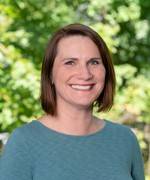 "I have witnessed firsthand the impact North Country Community College has on students of all ages in our community, and I understand the importance of providing quality education for all," Walkow said. "I'm honored to be able to apply my skills, expertise and love for Adirondack communities to support current and future North Country students."
As the head of the Foundation and Development, Walkow is the chief development officer for all philanthropic activity at the college. Her responsibilities include cultivating donors, researching and writing foundation proposals and grants, and developing and managing fundraising initiatives, alumni engagement and programming, and special events.
She takes over for Diana Fortune, who retired this fall after 11 years as director of the Foundation.
"We wish Diana a fond farewell as she spends some well-deserved time in retirement," said NCCC President Joe Keegan. "She essentially built the framework which Erin inherits. Her legacy includes the hundreds of students whose college experience was more affordable because of the scholarships that the Foundation oversaw.
"During her first few weeks in the position, Erin is taking all the right steps to learn as much as she can about the college, our commitment to our students, their families and our communities. I have much confidence in Erin's ability to build on the framework that Diana built and continue to move the Foundation forward."
Charles Van Anden, president of the Foundation's board of directors, said Fortune worked with determination and resolve to support the college, its students and the communities it serves over her tenure.
"Diana never said, 'I can't do that,' or 'That's someone else's job.' She got it done," Van Anden said. "Following in the footsteps of a highly successful individual is no small task, but it is one that I know Erin is well equipped to do and embrace. Her wealth of experience, commitment to the North Country, organizational skills, passion and sense of humor are awesome. I am so excited to see firsthand where she will lead us."
For more information about the North Country Community College Foundation, and ways to support the college and its students, visit www.nccc.edu/about/foundation.
###