College partners with counties to host COVID-19 vaccine clinic
Feb. 26, 2021
SARANAC LAKE – Nearly 600 doses of COVID-19 vaccine were delivered Thursday in the North Country Community College gym during a vaccination clinic organized by the public health departments in Essex and Franklin counties.
This was a first-dose POD (Point of Dispensing) that required pre-registration and was open to essential worker groups in Phase 1B of the New York State Distribution Plan and to people with certain comorbidities or underlying health conditions.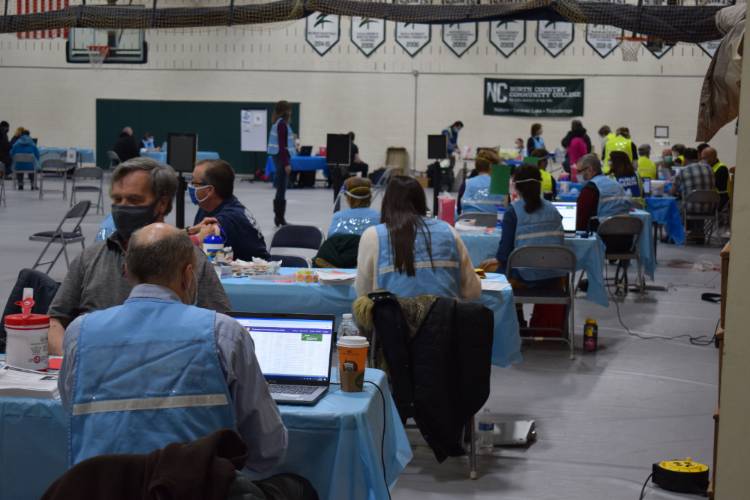 Essex and Franklin county each brought 200 doses of the Moderna vaccine to the clinic, Adirondack Health donated another 100 doses, and Essex County brought another 100 for second doses, according to county Public Health Director Linda Beers.
"This POD is amazingly unique," she said. "We're probably the only one in the state that I know of where we have two counties, a community college that serves both counties, in one of the most rural areas of New York, and 100 doses donated by a community hospital. It really draws on everyone's strengths that we can come together and do this much vaccine in one day, in a building big enough to accommodate everyone."
The clinic ran from noon until 7 p.m. When it began, the line of people was out the door, and a row of cars stretched from the front of the Sparks Athletic Complex back up the hill toward Dorchester Road.
As people came in, they were temperature-checked in the lobby and vetted by public health staff and volunteers wearing bright orange vests. Participants then waited their turn to walk into the gym where additional volunteers directed them to one of eight vaccination tables, four for Essex County and four for Franklin County.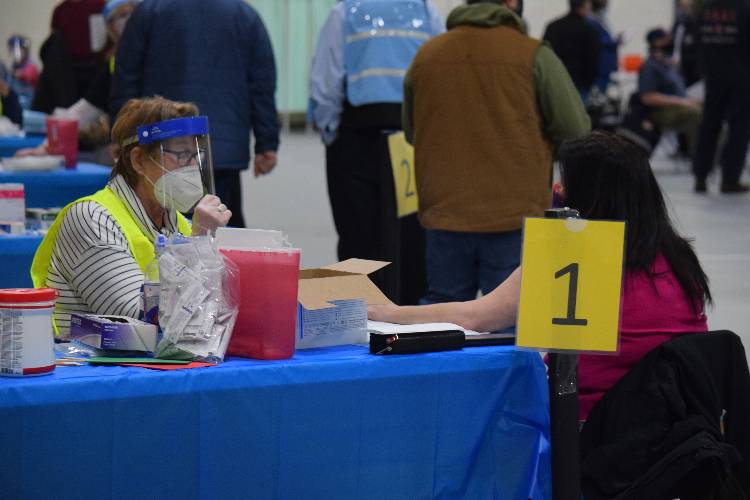 After getting their shot, each person was required to sit in a large open area in the middle of the gym for 15-30 minutes so they could be monitored for adverse reactions by three physicians and EMS personnel. Before they left, they visited a second row of tables to register for the second dose of vaccine, which will be delivered in the same location in late March.
Malinda Chapman, an adjunct faculty member at the college, has been volunteering at several Essex County vaccination clinics. During Thursday's session, she worked as a runner, providing batches of vaccine to the tables where it was being delivered.
"I'm here because I wanted to help make sure people get vaccinated," she said. "I think it's really important health-wise and economically for our region and the country. I also have another motive. I'd really like to travel out west to see my kids, and by helping out here I'm eligible to get vaccinated."
"We really wanted to get out here and get the number of people vaccinated in the area up," said Jessica Darney Beuhler, Essex County Public Health's director of health planning and promotion. "This was a great location to do it. We knew that in Saranac Lake and Lake Placid there are a lot of people eligible right now that we could serve with a clinic like this."
Katie Strack, Franklin County's public health director, said it was a "natural fit" for the two counties to come together and to host the clinic at the college, where they've held drills in the past.
"We had the idea for a while, but the question was, 'When is the vaccine going to come?'" Strack said. "The delay in shipping from Texas (due to a winter storm) actually allowed the shipments to catch up with each other. It's all about the vaccine availability. But we got it today, and we're thankful and grateful to be here."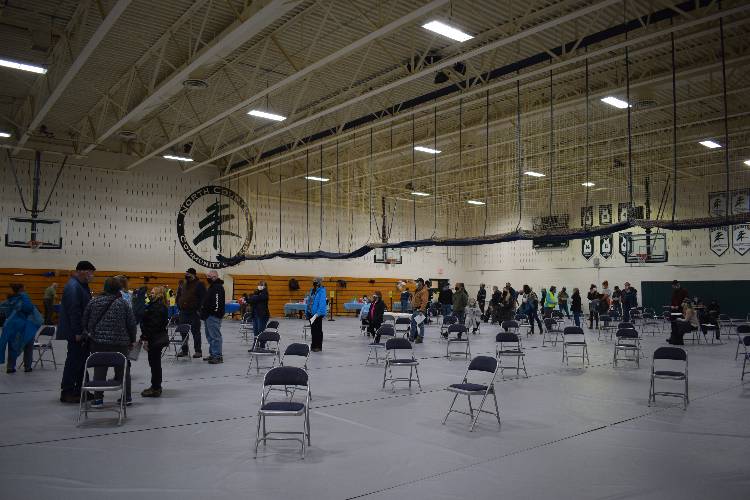 After months of focusing on isolation and quarantine of people with COVID-19, both Beers and Strack said it's a relief for their departments to be able to deliver vaccine to the community.
"There's light at the end of the tunnel," Strack said. "A lot more of us still need to be vaccinated, so it's going to take more time. But some people who were reticent in the beginning have changed their minds, and they're showing up and getting the vaccine. That's a good thing."
"We are honored to have been able to host the counties and play some small part in helping them help others," said NCCC President Joe Keegan. "The POD was a perfect illustration of the North Country spirit - neighbor helping neighbor."