Joe Keegan named NCCC President
Former student, faculty member and current Academic Affairs VP takes the helm June 16
Saranac Lake – The State University of New York Board of Trustees today approved the appointment of Joseph Keegan as the new President of North Country Community College.
Keegan is currently North Country's Vice President for Academic Affairs. His appointment as President is effective June 16, 2019.
"At North Country Community College, Joseph Keegan has been a student, faculty member, and a key member of the staff; and today he will add president to his list of connections to the campus and to SUNY," said SUNY Chairman H. Carl McCall. "He is dedicated in his service to the campus and to public higher education on the whole."
"Joseph Keegan is a true SUNY-grown leader, having attended North Country Community College, SUNY Potsdam, and the University at Albany throughout his academic career," said SUNY Chancellor Kristina M. Johnson. "His educational background coupled with his deep commitment to the North Country community, makes him an ideal choice to serve the mission and vision of the campus."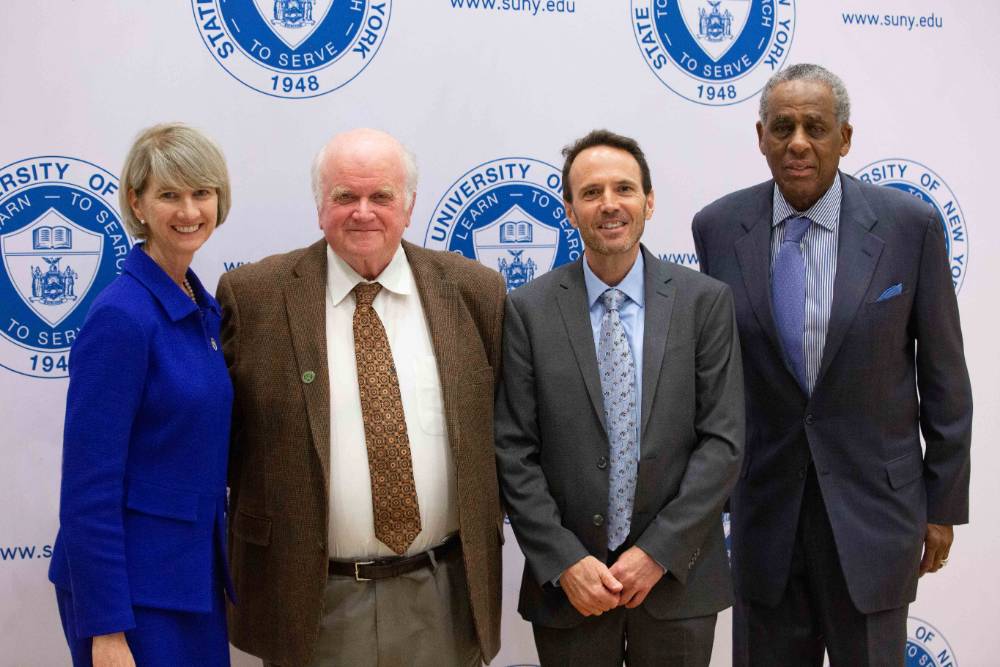 Keegan will be the college's seventh president since its founding in 1967. He replaces Dr. Steve Tyrell, who led the college since 2012.
"I would like to acknowledge the tireless and fruitful work of Dr. Tyrell, who has served us for seven years with dedication, vision, and courage," said Steve Reed, Chairman of the North Country Community College Board of Trustees. "Our new president, Joe Keegan, brings to the position an impressive reservoir of good will, both in our surrounding communities and the college itself; this arises from, among many other things, his work in the field of substance abuse, his addressing of the workforce needs of local employers, his commitment to shared governance, his principled character, and his down- to-earth demeanor. He is both an exemplar and servant of our communities and deeply committed to their well-being. I am confident the college will be in good hands under his very capable leadership."
"I thank Dr. Tyrell for his years of service to the College and the opportunity to serve in his administration for the last five years," Keegan said. "Steve put in lots of time and energy in activities to advance the College and was supportive and encouraging of our efforts in academic affairs. I wish him the very best in whatever awaits him.
"As one of the smaller gemstones in what makes up the SUNY crown of jewels, what we lack in size we make up for in quality and impact," Keegan continued. "Like many of our community college colleagues, we are a beacon of hope in what can often feel like a challenging environment. We have an incredible and innovative faculty and staff. We have a Board of Trustees that is engaged and supportive of our efforts. Our communities have been and continue to be incredible partners and are an important part of our strength. With all those elements in place, one can imagine all the places we can go. I look forward to joining with all of you to lead North Country into the next fifty years."
Keegan has served as the vice president for Academic Affairs at North Country Community College since 2014. Prior to his appointment to this role, Keegan was employed in administrative positions of increasing responsibility, including as the Coordinator of Human Services Programs and as the Grant Liaison for the Perkins CTE Grant and the Tri Lakes Prevention Coalition. In addition to these administrative roles, Keegan has served as an instructor at NCCC in various titles since 1994, most recently as an associate professor.
Keegan is also recognized as a Credentialed Alcoholism and Substance Abuse Counselor (CASAC) by the New York State Office of Alcoholism and Substance Abuse Services, and has leveraged this training and background to inform his work as the Coordinator of the Human Services programs at NCCC. He served on a team that developed NCCC's AAS program in Chemical Dependency Counseling, helping to train local students to bring meaningful supports and interventions to individuals and families suffering from addiction.
Keegan earned a bachelor of arts in anthropology from SUNY Potsdam, and a masters of arts in anthropology from University at Albany. Keegan is also a proud graduate of North Country Community College, earning an associates of arts in liberal arts from NCCC in 1989.
He is a long-time resident of Vermontville, where he lives with his wife Lisa and their five dogs. Their two daughters, both college graduates, are developing careers of their own, much to their parents' delight. As a family, Joe and Lisa are both invested and active in the community, volunteering and serving on non-profit boards. When not working, they enjoy a host of activities including partaking of the arts, being with friends and families, spending time in the great outdoors, and, traveling.
About North Country Community College: As the only public college located in the Adirondack Park, North Country Community College provides educational, cultural and recreational programming to a 3,500 square mile service area with a population of 90,000. The college maintains three campuses in Saranac Lake, Malone and Ticonderoga, New York; an extensive high school-based academic partnership; and online course offerings. North Country Community College is part of the SUNY (State University of New York) system. With 64 unique colleges and universities, SUNY provides learning environments for every type of student, every stage of life, and every kind of passion. For more information, visit www.nccc.edu.
About the State University of New York: The State University of New York is the largest comprehensive system of higher education in the United States, with 64 college and university campuses located within 30 miles of every home, school, and business in the state. As of Fall 2018, more than 424,000 students were enrolled in a degree program at a SUNY campus. In total, SUNY served 1.4 million students in credit-bearing courses and programs, continuing education, and community outreach programs in the 2017-18 academic year. SUNY oversees nearly a quarter of academic research in New York. Its students and faculty make significant contributions to research and discovery, contributing to a $1.6 billion research portfolio. There are 3 million SUNY alumni worldwide, and one in three New Yorkers with a college degree is a SUNY alum. To learn more about how SUNY creates opportunity, visit www.suny.edu.