Individualized Business Administration program in Ticonderoga
TICONDEROGA – North Country Community College is inviting the public to a launch party, ribbon cutting ceremony and job fair on July 18 to celebrate its new individualized Business Administration program in Ticonderoga.
The program combines the convenience and flexibility of getting an associate's degree in Business Administration online with the personal touch of advisement and support from college faculty.
Meeting each student's needs
The individualized Business Administration program is fully online and can be completed in 20 months. Coursework is taken year-round in 7.5 week blocks that are convenient and flexible for working adults who are trying to balance a career, life and their education. To ensure students are getting all the help and personal attention they need, the program includes quarterly orientation sessions led by faculty at the start of each semester, and advising and technical support from day one to graduation.
"Many working adults want to improve their career skills and opportunities, but some are reluctant to take online courses," said David St. Germain, chair of the college's Business Department. "This individualized program allows us to take care of the needs of each student. The content is presented online, but students also have the option of meeting with faculty face-to-face and learning what it takes to be a successful online student. Additionally, students will have opportunities for in-person tutoring to get the most out of their courses."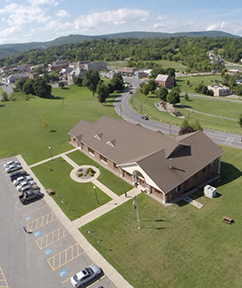 Why Ticonderoga?
Selina LeMay-Klippel, a faculty member and the college's Ticonderoga campus coordinator, said Ticonderoga is the perfect location to launch the individualized Business Administration program.
"Ticonderoga has a strong business community with many of Essex County's largest employers located a short distance from our campus," LeMay-Klippel said. "Some areas of Essex County historically have not had easy access to community-based college programs. Our individualized Business Administration program will bring the opportunity of earning a college degree literally to their doorstep, while providing the comfort and security of having a home-base campus with continuous support and guidance as needed."
The individualized Business Administration program will prepare students for entry into a host of professions, such as accounting, customer service, human resources, insurance, hospitality and retail.
Successful graduates can also transfer to any number of four-year institutions to continue their education.
The program will begin Aug. 23 with an inaugural dinner, open to students and their families, where participants can meet their classmates and get to know the faculty. The program kicks off Aug. 24.
Launch party, job fair, lecture
NCCC has joined with the Ticonderoga Area Chamber of Commerce to host a launch party for the individualized Business Administration program on July 18 at the college's Ticonderoga campus, located at 11 Hawkeye Trail. The ribbon cutting ceremony will take place at 6 p.m.
"We are excited and honored to be working with the NCCC team to launch this program," shared Matthew Courtright, TACC President & CEO. "NCCC plays an important role within the community and region. We truly enjoy working with their administration and staff to promote all NCCC has to offer, on community initiatives, and launch new programs. We look forward to our positive partnership continuing to grow. We encourage TACC Members, businesses, organizations, community members, and interested students of all ages to join us on July 18th for the launch party."
A job fair will also take place from 5 to 7:30 p.m. Representatives from Essex County, International Paper and other area employers will be on hand to talk to job seekers about career opportunities they have available. Businesses interested in joining the job fair may contact David St. Germain at dstgermain@nccc.edu or 315-566-1376.
Attendees are also invited to stay for the college's Free Summer Lecture Series at 7 p.m. that night. NCCC faculty member Peter Nelson will present "How the Adirondacks Made the Erie Canal Possible."
To learn more about the individualized Business Administration program, contact Amy Tuthill, Associate Director of Adult Learners, at 518-891-2915 ext. 1282 or atuthill@nccc.edu.