NCCC Plans for Mostly Online Classes in Fall 2020
SUNY approves college's Campus Restart Plan
SARANAC LAKE - The State University of New York has certified North Country Community College's Campus Restart Plan for the Fall 2020 semester.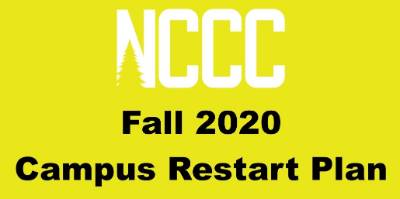 The plan was developed by the college's COVID-19 Task Force, using guidance and resources provided by the Governor's Office, the state Department of Health, SUNY and public health partners. It was also based on the college's experience in responding to the COVID-19 pandemic during the Spring 2020 semester, and its experience with delivering online education, which stretches back nearly twenty years.
"This has been long-awaited by us all and I appreciate so much the help, patience and good will from our campus community in formulating the plan," said college President Joe Keegan. "As with all things North Country, the process focused on how best continue to make the college a great place to learn, to study and to serve, regardless of setting. This approval allows us to move forward with implementing our plans for the fall semester."
When the college begins the Fall 2020 semester on Aug. 31, classes will take place in a mostly online setting, with a few exceptions.
"We believe a mostly online delivery offers the best opportunity to put the safety of our students and employees first, protect our core areas of academic excellence, and sustain programming through academic and operational synergies," Keegan said. "Doing so, then allows for us to fulfill our mission, and continue to serve our regional workforce needs."
"We also know that our twenty plus years of online instruction and the creativity of our faculty and staff in engagement and support of our students, even in a remote setting, will continue to serve our students well. We have no doubt that they will find a top-notch learning experience and supportive community here at North Country even though they may not be physically with us."
There are classes where program/course-level learning outcomes are best supported by face-to-face instruction and will be permitted to run via an in-person format. These include select nursing, radiologic technology and massage therapy classes.
The following summarizes the most significant priorities, steps and protocols the college will implement in order to safely welcome employees and students back into college facilities:
Staff will begin to return to campus mid-to-late July. All offices will follow physical/social distancing guidelines, with barriers in place in high face-to-face traffic areas and social distance markings in place, where necessary.

Those faculty members who will be conducting face-to-face instruction in Fall 2020 will return in late August. The faculty have individual offices and their planned workspaces support social distancing guidelines.

The residence halls located on the Saranac Lake campus, operated by the NCCC Association, will be shuttered for the fall semester. Students could return to the residence halls in the spring, depending on the status of the pandemic.

Occupancy limits have been established for labs and clinical practice for nursing, radiologic technology and massage therapy based on social distancing guidelines and the size of rooms where these classes would take place.

Student Life activities will mostly be delivered remotely.

Dining services will not be offered on any of the college's campuses for Fall 2020.

All athletic competition will be suspended for the fall semester. Decisions about winter and spring athletic programs will be made in the future based on the latest health and safety guidelines available.

When on campus, all students, faculty and staff will be required to wear face masks whenever physical distancing protocols cannot be followed and in cases where they are sharing space with others (e.g. classrooms, labs, office space).

The college has secured and will distribute appropriate and reusable cloth face masks for all employees and students. Disposable masks will also be made available.

Prior to returning to campus, students and employees will be asked to participate in an isolation period to ensure they are asymptomatic and safe to return. Employees will be required to complete a daily screening through the SUNY System's Back-to-Work Screening Tool. Students will be periodically screened for COVID-19 symptoms and encouraged to participate in routine passive screening during the school day to self-assess for a fever and/or newly present symptoms indicative of COVID-19.

Handwashing hygiene will be emphasized and reinforced regularly with employees and students as will personal hygiene practices in share spaces.

Regular and frequent cleaning of shared classrooms, labs, bathrooms, hallways and offices will occur daily.

If there is a resurgence of the virus, the college has developed a plan to ramp-down operations, as it did in the Spring 2020 semester.
The college's full Campus Restart Plan, including a Frequently Asked Questions section, can be viewed at www.nccc.edu/fall-2020.
This plan may be subject to further review and modification as new guidance is provided to the college by the Governor's Office, the Department of Health and/or other appropriate New York State agencies.
"The college extends our thanks to all who helped with the creation of this plan and, as importantly, all those who will assist us in executing it successfully," Keegan said.