NCCC Updates its COVID-19 Response Efforts
March 18, 2020
SARANAC LAKE – North Country Community College has closed its campuses and directed non-essential employees to work from home until March 30 to promote social distancing amid the COVID-19 crisis.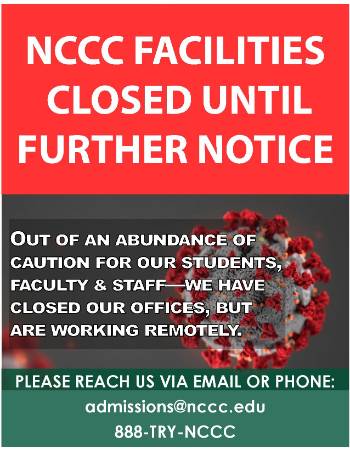 The college's COVID-19 Task Force continues to meet on a daily basis to manage the college's response and planning efforts, following the guidance of Gov. Andrew Cuomo, SUNY, the state and local health departments, and our regional health partners.
As previously announced, all college classes were suspended this week, and the college will go on spring break next week. Currently, classes are scheduled to resume March 30, but in an online/distance learning format.
The Task Force continues to work on ensuring the transition to online/distance learning for all students and faculty. Students are being discouraged from returning to our campuses after spring break. All academic requirements that previously anticipated a return of students after spring break are moving to provide remote participation options until such time as a safe return to campuses by students is possible. Instructors will be communicating directly with students via NCCC email, Blackboard and other methods on the transition to remote learning.
While most residence hall students on the Saranac Lake campus have returned home, approximately two dozen have requested to remain in the residence halls during Spring Break due to special circumstances. They will receive food service but only via takeout/delivery.
As of March 18, all college facilities and offices on all campuses -- Malone, Saranac Lake and Ticonderoga -- are closed and will remain closed until March 30. With the exception of a few essential services, most offices will be operating remotely albeit at a reduced capacity. Non-essential staff will be required to remain and work at home.
"Our planning and response efforts are being performed with the best information we have to date," said NCCC President Joe Keegan. "We recognize that the landscape is rapidly changing and we are monitoring conditions as they occur. In the event that our guidance changes, we will communicate to the college community."
More information on the college's response to the COVID-19 crisis can be found at http://www.nccc.edu/coronavirus-response