College Celebrates the Class of 2022
May 14, 2022
SARANAC LAKE – The North Country Community College Class of 2022 was celebrated Saturday at the college's first in-person Commencement ceremony in three years.
A total of 191 students graduated Saturday, including those who attended in-person at the Sparks Athletic Complex, and those who watched at home via a livestream of the ceremony.
This was the college's first in-person commencement since 2019. The last two were held virtually due to the Covid-19 pandemic.
"It has been incredibly difficult and challenging two years due to pandemic," college President Joe Keegan told the audience. "Our hearts go out to all those who suffered under the weight of the virus, from personal illness to loss of loved ones. It has been a difficult time.
"And yet, here we are, moving toward a new normal. Final exams are finally over, and the rewards of hard work and study lie ahead. Living through the pandemic was difficult enough and earning a certificate and degree during it is quite an accomplishment."
The ceremony featured remarks from college Board of Trustees Chairman Steve Reed, Student Speaker Jessica Kemp, and a Commencement address delivered by Minerva White, a distinguished elder from the Saint Regis Mohawk Tribe.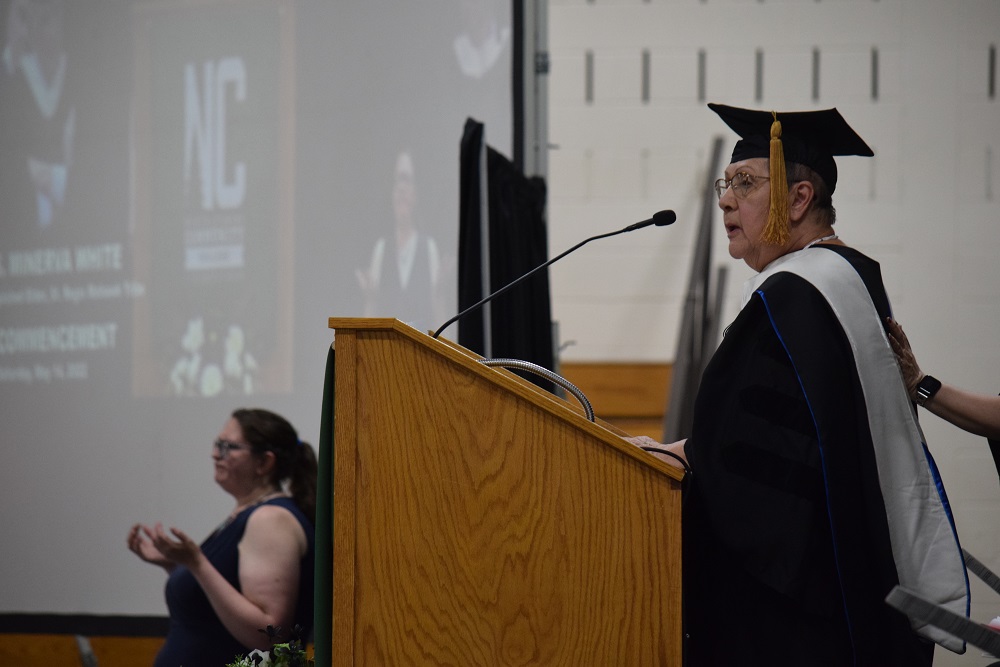 White, a leader of the educational equality movement for Native Americans in New York State, urged the members of the Class of 2022 to step out of their comfort zone and use their voice to be a force for change.
"You too have the power to move your community forward," White said.
Before the diplomas were handed out, Keegan told the graduates that they leave the college "with more knowledge, more skills, more awareness, more empathy, more prepared, more fully the person you are meant to be."
"Use it to do good, to enrich the lives of others, to be a source of strength to all that will need you. Our world needs you: talented, educated, kind, dedicated individuals."
Earlier in the ceremony President Keegan recognized three college employees with SUNY Chancellor's Awards. Sarah Shoemaker was named the recipient of the Chancellor's Award for Excellence in Teaching. Shelly St. Louis took home the Chancellor's Award for Excellence in Professional Service. And Susan Hoffer received the Chancellor's Award for Excellence in Adjunct Teaching.