NCCC offers Alpine Snowsports course at Whiteface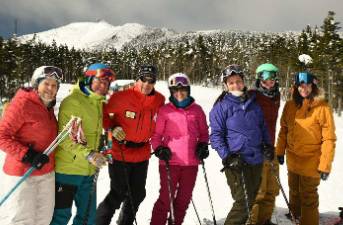 SARANAC LAKE – Hit the slopes of Whiteface Mountain this winter by taking an Alpine Snowsports course through North Country Community College.
Open to the public, including seniors, the course is an opportunity for skiers and snowboarders of all ability levels – beginner to advanced – to maintain and upgrade their current skills and grow more confidence on the slopes.
Taught by Whiteface Mountain instructors, the seven-session course meets on Friday afternoons from the last week of January through mid-March. Each session includes 90 minutes of instruction, during which participants are grouped based on skill level, and free time to ski and ride the mountain.
"Confidence and enjoyment while skiing and riding is dependent on skill level," said Helene Gibbens, the course instructor. "Alpine Snowsports provides an opportunity for all skiers and snowboarders, including seniors, to improve their skills at an age when confidence wanes and many stop skiing regularly or altogether. This is a great chance to enjoy the beauty of winter in the Adirondacks while staying active and healthy."
Alpine Snowsports has been taught at NCCC since the early 1970s. It has been a popular course for residents across the region, many of whom have taken it year after year because of both the skills they learn, and the camaraderie of the program.
Community members who want to take Alpine Snowsports for credit can register now by contacting the NCCC Registrar's Office at 518-891-2915 ext. 1689. The cost is $401, which includes seven half-day lift tickets and six group lessons.
Community members who are over 60 and would like to audit the course must register the week of Jan. 27. The cost for seniors is $148, which includes seven half-day lift tickets and six group lessons.
For information about course content, contact Helene Gibbens at 518-637-2963 or hgibbenskent@nccc.edu.