Schuyler Cranker wins 2020 SUNY Chancellor's Award
SARANAC LAKE -- Schuyler Cranker of Saranac Lake has been selected as North Country Community College's 2020 recipient of the SUNY Chancellor's Award for Student Excellence.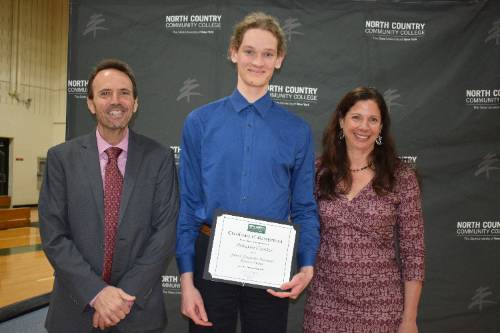 The Chancellor's Award is the highest honor SUNY bestows upon a student. Schuyler, seen here last year with President Joe Keegan and Social Science Dept. Chair Cammy Sheridan, is one of 213 students from 64 campuses to receive the award.
A second-year Math and Science student, Schuyler is incredibly bright, hard-working, and naturally inquisitive. He served as a senator in the Student Goverment Association for two semesters and helped organize the local 2019 Climate Strike. He has worked as a tutor in the college's Learning Assistance Center and is a member of the Phi Theta Kappa Honor Society.
The college congratulates Schuyler and wishes him the best of luck in his future endeavors.